If you need to travel out-of-town in the near future or have other reasons for needing your pet out of the house temporarily, you can rest assured your pet is in good hands with our capable and experienced staff.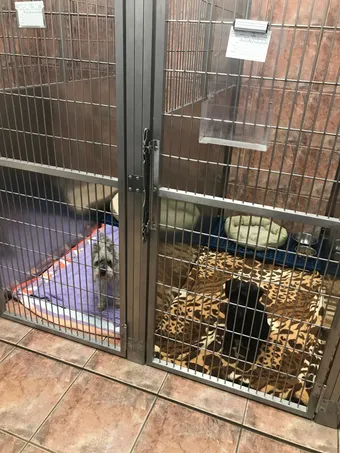 Why Board Your Pet With Us?
There are many reasons to board your pet with us, starting with the fact that you'll enjoy added peace of mind by boarding your pet with a veterinary clinic. While we never anticipate your pet needing medical attention while in our care, in the event that your pet did become ill while you are away, your pet will never be far from the skilled and compassionate veterinary attention that he or she needs.
Furthermore, when you board your pet with us, you can be assured that he or she will receive plenty of one-on-one attention with our staff, in addition to regular feedings.
Finally, when you board with us, you can rest assured that your pet is kept in a safe facility with plenty of comfortable space and room to stretch. Cats have a separate boarding area from dogs so they are not stressed out by barking, and dogs are given plenty of time to spend outdoors each day with three long walks, ensuring that your pet gets the exercise he or she needs while you're away.


Before Your Pet's Stay...
If you're thinking about boarding your pet with us, there are a few things you should know before you make your reservation. For starters, please be aware that your pet will need to be up-to-date on all vaccinations in order to stay with us. This is for your pet's safety as well as our staff and clients' safety. If your pet is in need of any vaccinations, please call to schedule your appointment ahead of time so we can get these taken care of prior to your pet's stay with us. If you have an outside vet, please bring paperwork that documents your pet's vaccination schedule.
We want to make sure that all pets are as comfortable with us during their stay as possible, so please feel free to pack a small toy, blanket, or other item that can be kept in your pet's kennel to help them feel at-home. We provide complementary Science Diet Sensitive Stomach or you may also bring a supply of your pet's food from home and we will be happy to feed it to them. Please be sure to indicate how much food your pet should be given each day.
Book Your Pet's Reservation Today
If you're interested in boarding your pet with us or would simply like to find out more about our services, feel free to contact Quiet Waters Animal Hospital. You can reach us by calling our office at (954) 571-7774. We look forward to hosting your pet at our facility!